Galaxy Next Generation: Innovative Security & Technology for Modern Classrooms
Galaxy Next Generation, Inc. is an innovative publicly held corporation that develops, manufactures, and distributes education-based software, hardware, and equipment for use in instructional and collaborative academic environments.
The professional mission statement of the company is to manufacture and distribute educational technology to the classrooms of today, perfect its proprietary technology in an internal research continuum, and offer its collaborative educational technology to the classroom generations of the future.
The innovative education technology products developed and manufactured by Galaxy Next Generation, Inc. are designed to be incorporated in a seamless fashion for instructors, presenters, and students. And this next-gen educational technology is intuitive, user-friendly, and will incrementally evolve traditional academic learning to involve technology inherently instead of as an additive tool.
Galaxy Next Generation, Inc. manufactures and innovates intuitive, integrative, and collaborative educational technologies that are used for telecommuting education, technologically enhanced education, and enhanced academic environment safety.
Galaxy Next Generation, Inc. aims to create the "21st Century Classroom" academic template and educational model for the student world of tomorrow. And more than that, the company is dedicated to security in classrooms and campuses.
Galaxy Next Generation, Inc. proprietary software and hardware technologies can be utilized by academic officials, local police authorities, and first responders to coordinate their efforts to keep schools and students safe.
Galaxy Next Generation, Inc. – History
Galaxy Next Generations, Inc. was launched in Toccoa, Georgia, its operational headquarters, in 1991 by Steven Whitten.
The company was founded on the principles of developing educational software and technology, interactive and collaborative education technology, and enhanced academic audio software solutions.
From its humble founding at the pre-dawn of the internet and digital age, the software and hardware engineers Galaxy Next Generation focused on assisting academic professionals in evolving the discipline of education via the embrace of emerging technologies.
Galaxy Next Generation, Inc. was dedicated from the beginning to empowering teachers and helping them to engage and motivate students in innovative new ways.
And while Galaxy Next Generation, Inc. is a company that strives to design, manufacture, and distribute the best in innovative education-based technology and software, the technology is secondary to the company's success. Galaxy Next Generation, Inc. is dedicated to professionally catalyzing successful academic outcomes. Galaxy Next Generation, Inc.'s duty is to aid academic professionals in professionally succeeding in positively changing the life, career, and higher education outcomes of today's and tomorrow's generation of students.
Galaxy Next Generation, Inc. was founded with the belief that it is not enough to just manufacture and distribute its proprietary education technology without being directly involved in how its technology is being incorporated in the academic world. The company is dedicated to collaborating with and training academic professionals, administrators, IT staff, and students in how to correctly use its products.
Galaxy Next Generation, Inc.'s Products
Galaxy Next Generation, Inc's education-based software and hardware suite is designed to enhance the classroom experience and its corresponding security.
TeacherView is an innovative and cloud-based distance learning program that efficiently facilitates collaborative and long-distance remote learning outside or inside the classroom. TeacherView allows educators to share video, screens, whiteboard feeds and more securely with students and other educators. This tech also allows teachers to remotely assist students in real-time.
G2 Control for Education is a region-wide management device monitoring system that school administrators can use to monitor the viability of every Galaxy Next Generation, Inc. device installed in their district. And G2 Control for Education software programs is controlled via a cloud-based platform monitor, update, and control devices and analyze collected data.
G2 Control for Education provides an interactive, collaborative, and customizable interface for academic professionals, administrators, IT staff, and principals to collaborate and manage their curriculum via the integration of G2 technology.
G2 Control for Education can be secure and effectively managed by school officials only to manage and control all G2 device apps. Stolen or malfunctioning G2 devices can be remotely tracked, locked, and deleted of data.
The G2 LINK Classroom Audio System is an enhanced audio system that allows academic professionals and students to interact and learn with clear and crisp sound.
The G2 Bell system is a digital update of the analog bell system that structures the school day into periods and alerts students as to when it is time to switch classes. School administrators can use the G2 Bell to structure the school day and keep remote students alert and engaged.
The G2 Secure is a one-touch security alert device that can lock down classrooms notify students, parents, and administrators of a security threat while simultaneously alerting local police authorities of the threat.
Moreover, the interactive G2 technology integrated into any nearby schools can become monitors to document any threat for use by police authorities. School administrators can remotely lock and open doors according to any visual data they gain from the G2 Secure system. Most importantly, the G2 Secure can be remotely controlled to allow students and academic professionals to communicate with each other in different classrooms and with security professionals outside.
The G2 Secure system is an innovative security alert system that can potentially change the way schools strategize their security measures in the future.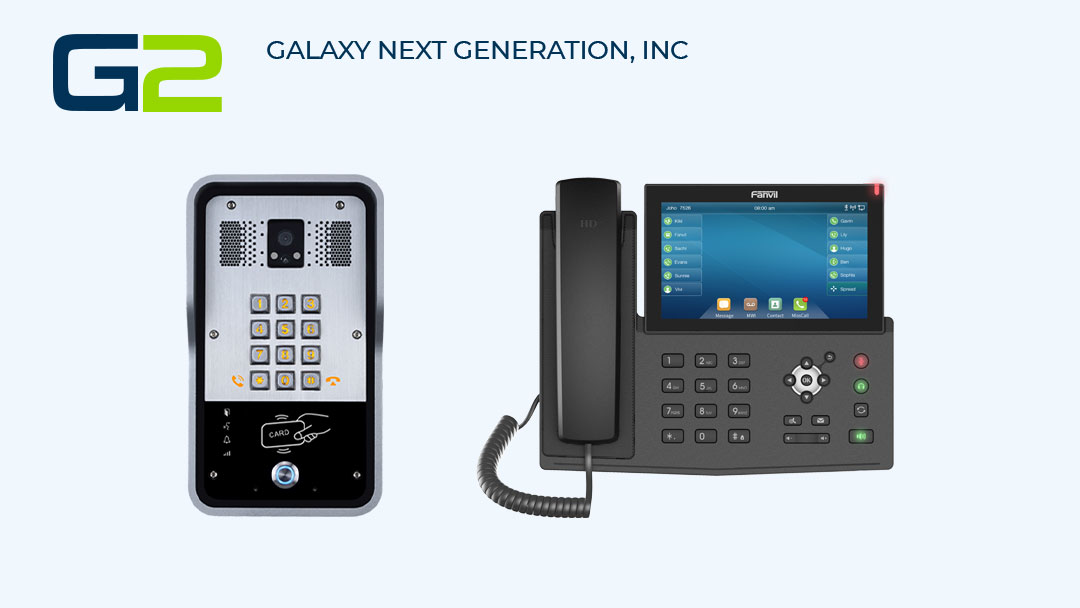 Industry Focus
Galaxy Next Generation. Inc. is a corporation that creates revolutionary software and hardware for use in the interactive educational technology, software, and technology fields.
Galaxy Next Generation, Inc. has filed over half a dozen patent applications for new and emerging audio, sonic, and ultrasonic technologies that will be used in the future to innovate long-distance remote technology.
Notable Awards and Industry Honors
In December 2021, Galaxy Next Generation, Inc.'s G2 Secure device was lauded by an award win by THE Journal. And the G2 Secure security device also won the 2021 Campus Technology New Product Award.
THE Journal is a periodical that reports on notable innovations in the education industry. And the G2 Secure was highlighted for its future potential to efficiently and securely unite and coordinate the activities of school districts, local police authorities, and first responders to mitigate school-based threats.
C&C Technology is proud to partner with Galaxy Next Generation for security and school technology.