Visual presentation tools play a vital role for companies, enabling them to present their offerings, expertise, and concepts to a broader audience.
Selecting the appropriate display option is critical, as it greatly influences a company's message delivery efficacy.
An exceptional video display can assist businesses in capturing their audience's attention, creating a memorable impact, and boosting sales.
This article will delve into the top video display alternatives for companies and discuss the aspects you must consider when selecting the ideal solution for your requirements.
Related: 21:9 Ultrawide Monitors – The Future of Video Conferencing
Popular Video Display Solutions
There are several popular video display solutions that businesses can choose from.
Flat Panel TVs
Flat-screen TVs are budget-friendly, simple to set up and deliver impressive image quality. In addition, they come in various sizes, allowing you to choose one that suits your space.
Even so, there might be better choices for displaying text-intensive content.
Projectors
Projectors make a suitable option for businesses requiring the display of sizable visuals. They come in multiple resolutions, enabling you to select one with the desired image quality.
However, projectors can pose more significant installation challenges than flat-screen TVs. Their brightness might be inadequate in rooms with ample lighting.
Interactive Displays
Interactive displays present another alternative for businesses. These displays enable users to engage with the content on screen, making presentations more captivating and educational.
However, interactive displays have a higher price tag than flat-panel TVs or projectors and could demand more upkeep.
Contact C&C Technology Group About Your Video Conferencing Needs Today!
Technologies for Display Solutions
Three leading technologies for video display solutions for businesses are LCDs, direct-view LED displays, and projectors.
Every technology has distinct characteristics and advantages that suit particular use cases.
LCD Displays
LCDs have been available on the market for a while. They are a versatile option for businesses looking to add interactive and engaging features to their existing technology.
With excellent image quality and a wide range of sizes, LCDs are a perfect fit for any space.
Additionally, LCDs can be wall-mounted or set on stands, making installation a breeze in any setting.
Direct View LED Displays
Direct-view LED displays have gained popularity and are an excellent choice for sizable, high-resolution displays.
These screens provide an engaging experience with a seamless display, high contrast, and unparalleled brightness. In addition, their modular design enables scaling to almost any dimension.
The fine-pixel pitch options ensure precise details at virtually any viewing distance. Additionally, the screens can be creatively shaped, such as into curves.
Direct-view LED displays are ideal for businesses aiming to captivate their customers with an immersive experience.
Projectors
Projectors, a flexible choice with recent technological advancements, use a lamp or laser to project images onto screens or other surfaces.
Ideal for businesses requiring large image displays, projectors come in various resolutions to suit your image quality needs.
Though installing projectors can be more challenging than flat-panel TVs, and they might not be as bright in well-lit spaces, they excel in producing stunning displays and transforming spaces to educate, attract, and engage audiences.
Unlike traditional displays and dvLEDs, which require considering fixed aspect ratios, projection technology can transform walls, doors, objects, and floors and be moved between rooms within a building.
Museums, artists, schools, and businesses can all take advantage of the myriad advertising possibilities, art installations, and immersive experiences projection technology offers.
Related: Understanding Audiovisual Technology – Advances in AV
Considerations for Specific Environments
When choosing a video display solution, it's essential to consider the specific environment in which it will be used. Here are a few key factors to keep in mind.
Indoor vs. Outdoor Spaces
Various displays cater to distinct settings. In addition, high-brightness LCD panels can be adapted for outdoor use.
Direct-view LED displays, meanwhile, are well-suited for outdoor settings due to their high brightness and IP65 rating availability.
Projectors, however, are better suited for outdoor usage during nighttime or indoors.
Ambient Lighting
Ambient lighting in a space can impact the efficiency of various displays.
Projectors need a high brightness level for clear image visibility in areas with abundant ambient light, particularly natural light.
Digital displays with high-brightness options perform well in such environments. In addition, high haze (anti-reflective) panels are worth considering, as they disperse incidental light rather than reflect it.
Spatial Constraints
The room or space's dimensions and configuration can influence display selection.
Projectors come in various sizes and shapes, enabling easy adaptation to small or irregularly-shaped areas.
LCD displays excel at presenting highly detailed images and graphics up close. In contrast, direct-view LED displays, now offered in fine pixel pitch options, are becoming more suitable for smaller-scale, near-view applications.
Content Considerations
As you choose a video display solution for your enterprise, consider the content you plan to show.
Projectors work best for videos, branding, and short slideshows, while LCD displays excel at presenting intricate details in the content.
Direct view LED displays shine when creating captivating experiences using videos and still pictures.
Accounting for the ideal viewing distance for your video wall is crucial, as the pixel pitch directly affects the cost.
Click Here If You're Looking For a Manufacturer's Rep Agency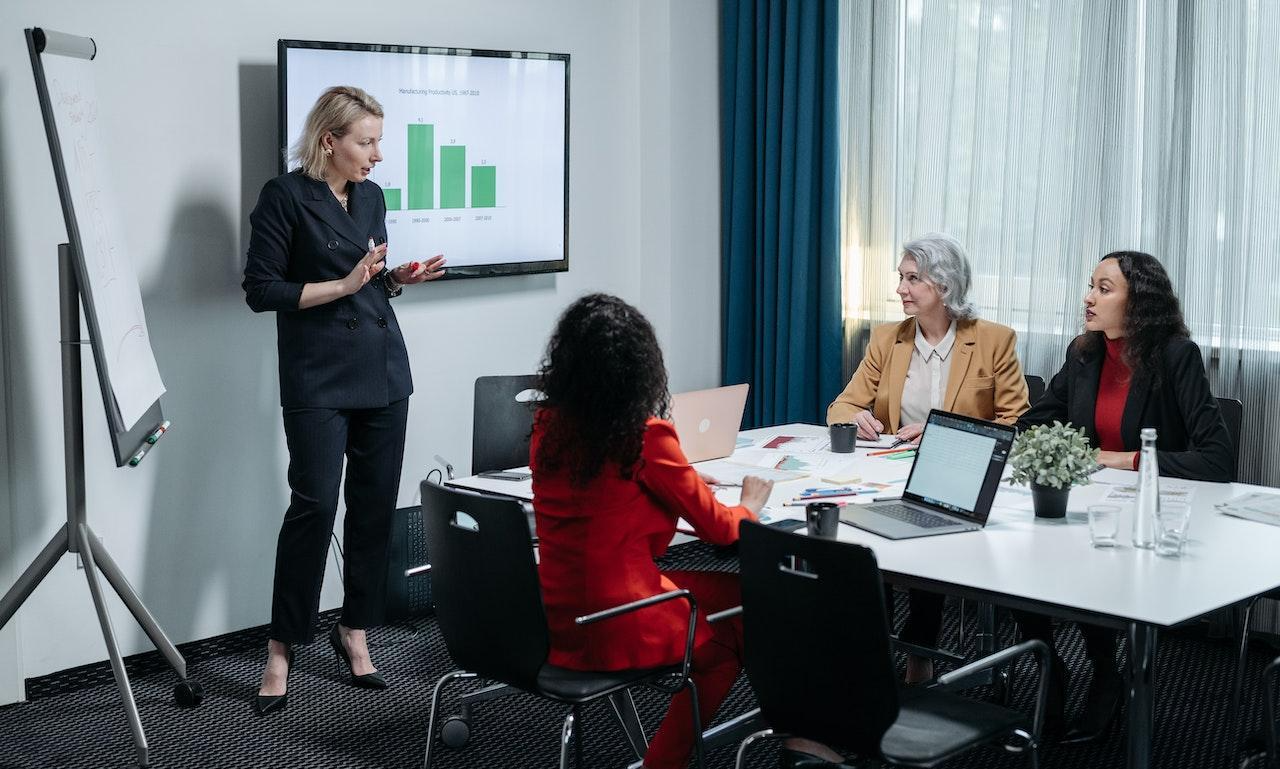 The Best Video Display Depends on Your Specific Needs
There are several factors to consider to select the optimal video display solution for your business.
Popular options include flat-panel TVs, projectors, and interactive displays, each with its advantages and disadvantages.
The choice of technology can also affect the display's performance, with LCD displays, direct-view LED displays, and projectors being commonly used.
Specific environmental considerations such as indoor or outdoor spaces, ambient lighting, and spatial constraints should also be considered.
Lastly, it is essential to take the content being displayed into account.
Suppose you require assistance selecting the right video display solution for your business needs. In that case, C&C Technology Group offers a wide range of services, including product sales, support, specification, system design, installation, training, and maintenance.
Their experienced professionals can guide you through the various options and help you select the best technology strategies, solutions, and products for your business.
Related: 8 Benefits of Smart Boards for Conference Rooms
Last Updated on June 8, 2023 by Josh Mahan